GET THE VINYL SIDING ADVANTAGE AND A 25 YEAR WORKMANSHIP WARRANTY!
Given the harsh weather often endured by Pennsylvania homes, vinyl siding is a smart choice for most homeowners.

Consider the advantages of installing quality vinyl siding on your home:
Low maintenance.
Vinyl siding requires less maintenance than most manmade residential cladding materials. It resists heat, cold, mold and mildew, allowing it to retain its good looks over time. Best of all, it never requires painting, scraping or sanding like wood.
Durability.
Vinyl siding ranks only after brick and stone in terms of its durability and long life. New innovations in the chemistry of vinyl have made it all but indestructible, which is why many siding manufacturers now offer lifetime warranties on their products.
Low cost siding replacement.
Compared to wood, vinyl siding costs roughly half as much per square foot. Because installation requires less time, you will also save on labor costs.
Increased home value.
The bright look of vinyl siding brings a big pick-me-up to the exterior of older homes in particular. Quality vinyl siding in Pittsburgh, Cranberry or Wexford can add considerable value to a home, and is an attractive selling point for buyers.
Knox's Construction installs quality products from CertainTeed and Mastic Siding. With many durable, contemporary choices from the industry's top manufacturers, we provide you with only the best options to improve the exterior of your home.
Call Knox's Construction Today for Your FREE Siding Estimate
Knox's Construction has offered siding replacement and siding repair, since 2002. Please call (724) 941-8219 or use the form below to contact us for your new roof, roof repair, siding, soffit & fascia, and gutters & downspouts needs.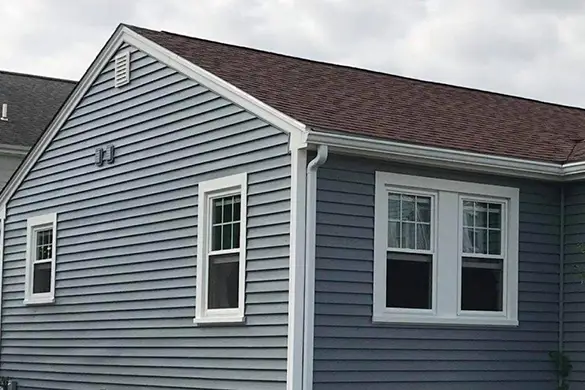 We offer a range of siding materials
One of the most popular siding types is vinyl. Introduced in the early 1960s, vinyl siding has grown in popularity because of its durability, versatility and ease of maintenance. Vinyl siding is manufactured with polyvinyl chloride and resin, which make it waterproof, impact-resistant and strong.
In the early days of vinyl, color choices were limited to neutrals and pale pastels, but new innovations in the manufacturing process have produced a full complement of rich siding colors to choose from, such as barn red and forest green.
Recent Articles Related to Siding in Pennsylvania
Recommended and Trusted Vinyl Siding Company
Enhance your curb appeal with help from Knox's Construction. We offer a wide variety of professional siding in Pittsburgh to increase your home's aesthetic and overall value.
We only use our certified installers to ensure your siding replacement is done right every time. We pride ourselves on having experienced specialists that are among the best in the industry, so you can be sure that you are getting quality craftsmanship.
When looking for superior siding companies in Pittsburgh, it is important to not sacrifice quality for lower prices. Your home is a true investment, and it is important to protect the exterior of your property with our professional siding options. We offer an extensive selection of siding, including everything from vinyl siding in Pittsburgh to brick siding.
To get your siding project started, call us at (724) 941-8219 and get a free estimate.
---
The images on our website can be used to assist in your purchasing decision, but should not be relied on as the sole reference point. Due to variation in computer monitors, mobile devices and printers, the images shown may not exactly replicate the corresponding color, texture or appearance. To verify actual product color, texture or appearance please contact us to see the actual product sample.